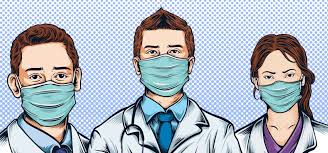 MONROVIA, LIBERIA –The National Public Health Institute of Liberia (HPHIL) says it has completed a draft regulation on the enforcement of facemask wearing in public places in Liberia.
NPHIL Director General, Dr. Mosoka Fallah said the draft regulation will be forwarded to the Incident Management Team for approval before becoming a public health law.
Speaking to ELBC, Monday July 13, 2020 Dr. Fallah disclosed the regulations will seek the through enforcement of the wearing of face masks in all public spaces.
He said one of the best ways to fight CONVID -19 is by wearing of facemasks.
Dr. Fallah emphasized that facemasks wearing mandatory and that punitive measure be taken against violators.
Meanwhile, debate on the enforcement of the Public Health Law and strict enforcement by policy makers has ensured among Liberian despite the high infection rate of the virus in Liberia.
The latest call to bark Government's caution to citizens and residents to abide by the health protocols come Bong County Senator, Dr. Henrique Tokpa.
Senator Tokpa described as serious the refusal of people to wear nose masks, citing his latest experience with some of his constituents during his recent visit in Bong County.
He wants government to act in the supreme interest of the people in the COVID -19 fights by ensuring strict compliance without fear or favor.
At the same time, the Ministry of Health has received a donation of assorted Coronavirus preventative materials and an ambulance.
The items were presented Monday, July 13, 2020 by the United Nations Population Funds (UNFPA) to help contain COVID-19 in Liberia.
UNFPA Country Representative, Dr. Bannet Ndyanabangi, said the ambulance is to be used by the Phebe Hospital in Bong County.
He said the presentation of the items was part of UNFPA's continued support to the Liberian Government in fighting the Coronavirus.
Liberia's Health Minister, Dr. Willhelmina Jallah, receiving the items, thanked the UNFPA for the gesture and promised to use them for the intended purpose.