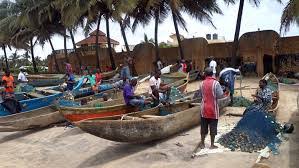 MONROVIA, LIBERIA-The Compliance and Enforcement Team of the National Fisheries and Aquaculture Authority says it has seized half a dozen canoes in Maryland County for non-compliance.
The NaFAA team has intensified the collection of 2020/2021 fishing license fees in Maryland County and other parts of Southeastern Liberia.
Paddling canoes operators are required to pay three thousand two hundred Liberian dollars as license fees annually to fish across Liberia.
A NaFAA release says the team began a tour of the Southeastern region on December 21, 2020 following report that many fishermen operating canoes were reneging on the payment of their fishing license fees.
The release says due to the presence of the Compliance and Enforcement Team in the Cavalla fishing community, some of the paddling canoe fishermen have begun paying their 2020 fishing fees.
At the same time, NaFAA has announced the hosting of a consultative meeting January 20 in Monrovia.
The forum, According to a release, will bring together delegates from across the nine coastal counties to discuss issues relating to the operations of paddling canoe operators.
The NaFAA team is also holding discussions with authorities of the fishing communities, including the sea chiefs and commissioners of the various districts along with other leaders.