Monrovia – Liberia, Thursday, September 29, 2022 –  The Rotary Club of Monrovia, earlier this week completed the closeout activities for its Women Empowerment in West Africa (WEWA) Project. Four clusters of women-owned businesses located in Duport Road/Police Academy; Old & New Matadi; Central Monrovia and Clara Town received various items to help them scale up their self-run businesses. The Women Empowerment in West Africa (WEWA) Project also included a Peace Building Training and Psychosocial Counselling component to facilitate behavioral change that maintains and advance peaceful relationships  and to build their mentality to cope and grow within their challenging environment.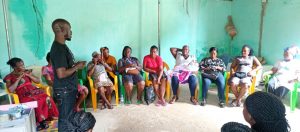 Rotarian Mai Bright-Urey, President of the Rotary Club of Monrovia participated in the handover of items at one of the cluster locations in the Old Road/Matadi neighborhood. She expressed delight at the successful completion of the small businesswomen entrepreneurs who are now skilled and equipped to understand, manage, and expand their businesses – a foundation of Rotary's focus of supporting local economies.  The Club's President stated, "I am so proud for our club to be associated with this initiative because I strongly believe that empowering a woman is directly related to uplifting our communities and investing in local economies – a core area of focus for Rotary globally".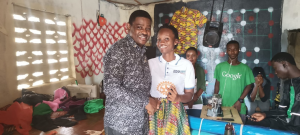 The Women Empowerment in West Africa (WEWA) Project was made possible through Rotary partnerships and fundraising by the Rotary International, the Rotary Club of Monrovia and five other Rotary Clubs from Europe namely the Rotary Clubs of: Marlow (UK), Binche (Belgium), La Celle Saint Cloud-Bougival (France), Venezia Mestre (Italy) and Köln-Ambassador (Germany) and their associated Rotary Districts including Rotary District 1090, 1660, 2060, 1810 and 2150.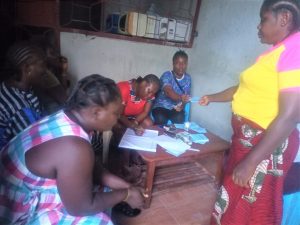 With the support of two local implementing partners: EDUCARE LIBERIA and the YWCA LIBERIA, the WEWA project targeted 200 women entrepreneurs across industries and sectors and provided them with structured business and financial management training, business plan development, individual and group physiological counseling, coaching and mentorship by expert trainers and accomplished entrepreneurs. This week's business material support donations represent the climax of the Women Empowerment project for the women with 70 small businesswomen receiving a customized business material support package for their respective businesses.
Ms. Hawa Diallo, a fashion designer and owner of Moses Fallah and son tailor shop in Doe Community (after the LDEA office) shared that this program has been transformational for her journey as a business owner and will now have a great impact on her life. "I am now even more excited and passionate about my business and I'm sure it will be a success."  Another entrepreneur, Ms. Jartu Samah, a local soap and detergent manufacturer and owner of J.S. Business Center in Clara Town (around Marvil Sonii government Toilet) expressed her gratitude to Rotary for a better understanding of how to build and expand her business to increase her profits to support herself and her family.
The WEWA project has established Village Savings and Loans Associations – micro savings schemes – amongst several of the business owners near one another. These savings schemes are a key component
of the project's sustainability to ensure the entrepreneurs have access to capital for continued business success.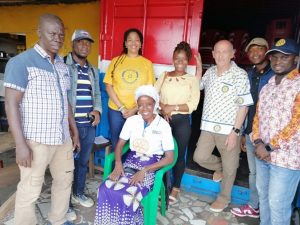 Rotary is a global organization of people who continue to set themselves apart by encouraging high ethical standards in their respective professions, building goodwill and peace and above all dedicating their time to provide humanitarian services to fellow citizens.  The Rotary Club of Monrovia was originally chartered by Rotary International on January 24, 1964, as the first Rotary Club in Liberia. The members of the Rotary Club of Monrovia use their professions, knowledge, and resources to support and serve their communities in Monrovia and across the country.
The work of Rotary is grounded around eight core areas of focus, both globally and locally.  These include: Ending Polio, Promoting Peace, Fighting Disease, Providing Clean Water, Supporting Education, Saving Mothers and Children, Growing Local Economies and Protecting the Environment.