By: Sampson David
Monrovia, Liberia – Kids Educational Engagement Project (KEEP) has concluded series of educative engagements with Liberia Children Parliament and the office of Montserrado County Superintendent, Florence Brandy.
The meetings brought together aspiring female leaders from KEEP-Liberia 'She Leads" program, delegates from the Children Parliament and Superintendent Florence Brandy.
The engagements were held separately at the Ministerial Complex in Oldest Congo Town and Bentol City, Montserrado County on Thursday and Friday October 14 and 15 respectively.
The interactive meetings were intended to understanding the impact-focused activities of the Children Parliament and the office of Superintendent Brandy, in a bid to motivate the aspiring female leaders to achieve their dreams.
Speaking during the interactive discussion at her office Friday in Bentol, Montserrado County Superintendent Florence Brandy called on Liberian girls to brave the storm to ascend to leadership positions.
Superintendent Brandy said, considering current challenges as stepping stones will enable girls and young women achieve their goals in life.  She noted that there will always be challenges in life, but the ability to overcome and contribute immensely to society is what matters.
The Montserrado County Superintendent called on the aspiring female leaders to cultivate the spirit of patriotism, discipline and teamwork if they must be successful in life.
Also speaking, the Executive Director of KEEP Brenda Moore said it is about time aspiring female leaders emulate the life style and leadership skills of successful Liberian women.
She noted that emulating the good examples of those she termed as 'Living Legends' will enable young Liberian women and girls achieve their life goals.
Madam Moore then lauded Superintendent Florence Brandy for providing the space and motivating the girls to push for their dreams.
Earlier on Thursday October 13, another batch of selected beneficiaries under the same project met with the Liberia Children Parliament at the Ministerial Complex, in Congo Town.
At that event, girls' participation in leadership and major decision making was highlighted by the participants.
KEEP's 'She Leads' program beneficiaries and delegates from the Children Parliament sat face to face as the discussion progressed.
The aspiring female leaders were attentive to learn from veteran youth parliamentarians on their achievements and efforts they have made in promoting girls' participation.
Speaking at the event, KEEP-She Leads Project Focal person, Merville Smallwood added that the engagement was intended to enable participants understand activities being implemented by the Children Parliament to encourage them in taking on leadership roles.
"She Leads' is a consortium that brings together child rights organizations, feminist/women's rights organizations, girls and young women-led groups in a joint effort to increase the sustained influence of girls and young women (GYW) on decision-making and the transformation of gender norms in formal and informal institutions."
KEEP Liberia is working in partnership with Plan International-Liberia to deliver on Collective Girls and Young Women action and activism in a gender-responsive civil society.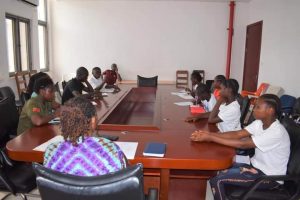 Madam Smallwood also named increased acceptance of positive social gender norms and meaningful participation of Girls and Young Women in decision-making as part of the program focus areas.
The program focus areas are in line with KEEP Liberia vision which promotes Reading Literacy, Computer Literacy, Economic Livelihood, and Equality.
"As we all know girls' participation in decision making and women political participation has been a major challenge since the foundation of the Liberian society," she said.  "The system is deeply rooted in social norms, religious and traditional beliefs that continue to put girls and young women in the back while boys and young men thrive. At the community level, girls in most instances are not allowed to attend palava hut meetings or if they do so, they sit at the back and speak only based on permission from the elders."
Making remarks, the national Deputy Speaker of the Children Parliament, Thomas Karyou and members of the delegation drilled beneficiaries of the program through the activities of the parliament.
Kar-you said the Children Parliament has instituted several programs including workshops, awareness and public engagement to encourage girls' participation in leadership.
The engagement was part of activities of KEEP-'She Leads' Program.
'She Leads' is aimed at ensuring that the voices of girls and young women are heard to increase women's participation in decision making.