By: Sampson David
Monrovia-Liberia – Kids Educational Engagement Project (KEEP) has dedicated a reading room worth over forty-six thousand United States Dollars in Careysburg city, Montserrado County.
The reading room dedicated at the Careysburg Public Elementary school was sponsored by the Bates Family.
The Dedicatory ceremony was witnessed by key educational authorities and scores of citizens of Caresburg.
The students and administration of the school were thrilled by the gesture of KEEP and the Bates family.
Speaking at the dedicatory ceremony Friday, October 28, the Executive Director of KEEP, Brenda Moore lauded the Bates Family for contributing to youth educational development in country.
Madam Moore said the transformation of the educational system of the country rest on the shoulders of every citizen and as such the contribution of the Bates family is remarkable.
"If we have more families taking up initiative in their communities like this, Liberia will pick up," she said. "Developing Liberia is not one person job, it is not only the government job, is collective effort that will see the transformation."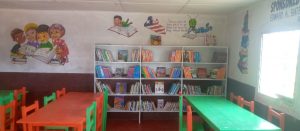 The KEEP Executive Director said access to quality education will help to close the gap of inequality and social injustice.
She noted that Liberians need to be deliberate and intentional by ensuring that kids have access to good learning environment to enhance their capacity.
The Caresburg reading room marks the twenty-ninth public library to be dedicated by KEEP across ten counties.
The reading room contains over 2000 books is aimed at enhancing the reading capacity of school going kids in Caresburg City.
At the same time, the Bates family has vowed to equip the reading room with computers to enable the students have access to modern technology.
Speaking on behalf of the family, Jeff Bates noted that the initiative is their way of giving back to the community and society.
"I grew up here; we never had that so, things are changing for you young people. It is amazing, this transformation. We are happy to see this under our sponsorship. We are coming back soon with computers and other things."
Mr. Bates further said reading is the fulcrum of education and the presence of such room will put the students on par with others in the urban areas.
For his part, the County Education Officer of Montserrado, Harrison Darwolor lauded KEEP and the Bates Family for the gesture.
Mr. Darwolor said providing such an environment to enhance the reading capacity of school going kids in the area is rewarding and will go a long way.
He called on other NGOs, humanitarian groups and well-meaning citizens to buttress government's effort to improving the educational system.
This marks the first public reading room to be constructed at the Careysburg Public Elementary school as well as the entire community.