Xi'an, Friday, May 19, 2023 – Chinese President Xi Jinping is today presiding over the first ever China -Central Asia summit in Xi'an, northwest China's Shaanxi Province.
Leaders of Kazakhstan, Kyrgyzstan, Tajikistan, Turkmenistan and Uzbekistan have all joined their Chinese Counterpart at the long anticipated summit which promises to strengthen cooperation among the six nations.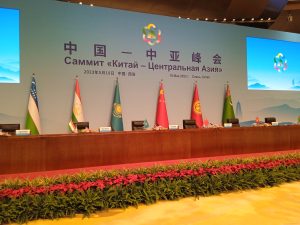 Earlier on Thursday evening, President Xi delivered a welcoming speech for the visiting Leaders and their spouses during an elaborate and colourful ceremony at Tang Paradise in Xi'an.
In the statement, President Xi said, Shaanxi, the eastern starting point of the ancient Silk Road, has witnessed the deep friendship between China and Central Asian countries.
"Deepening cooperation between China and Central Asia is a strategic choice made by the leaders of our generation with an eye on the future", Xi said.
He added that China welcomes Central Asian countries to board the train of its development and jointly build a brighter future for China-Central Asia cooperation.
The leaders also watched a welcoming performance on Thursday evening at the Tang Paradise, a complex based on the site of the original relic of an imperial garden dating back to the Tang Dynasty.