By: Sampson David
MONROVIA LIBERIA – Beneficiaries of Kids Educational Engagement Project 'She Leads' Program have concluded series of engagements with the Legislature, European Union and ECOWAS Liberia Office.
She Leads is a five-year program being implemented jointly by several organizations including Plan Liberia International and Kids Educational Engagement Project among other.
It is aimed at ensuring the voices of girls and young women are heard to increase women's participation in decision making.
The meetings which were held separately took place at the offices of the various groups from December 6-8, 2022.
The chairpersons of the Gender Committees of both Houses of the Legislature, Senator Botoe Kanneh and Representative Dr. Rosanna Shaack were in attendance as well as well beneficiaries of Kids Educational Engagement Project (KEEP) 'She Leads' program.
The engagement geared towards girls' participation in leadership and major decision making.
Speaking at the event on Capitol Hill Tuesday, KEEP-She Leads Project Focal person, Merville Smallwood added that the engagement was intended to enable participants understand the work and activities of the Committees on Gender to encourage female participation in leadership.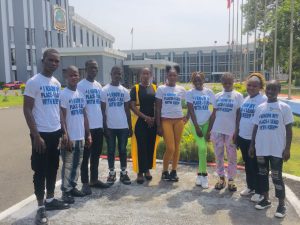 She noted that understanding the impact-focused activities of the Committees will motivate aspiring female leaders to achieve their goals.
Miss Smallwood disclosed that the project initially targeted the establishment of Gender Committees in the Legislature, but later noticed that the committees have already existed.
"We planned this program so that the girls and boys can ask questions about the activities and running of both committees," she said. "We believe this will encourage these aspiring female leaders to achieve their goal in participating in major decision making."
The constant interactive forums with major stakeholders will also help the beneficiaries to alleviate fears of speaking among dignitaries.
She further said, "these activities are making them brave to express themselves and gain self-confidence and esteem. You cannot be a major decision maker and don't know how to speak among people. The presentation of your thought matters. So, they have been meeting with stakeholders from different backgrounds."
"If these young girls should be the future leaders, we must act now. We cannot act by just looking at them – we need to take action. We need to nurture them. The classroom is not enough; we have to be practical by showing them what to do," she concluded.
Making remarks, the Chairpersons of the Committees on Gender at the Senate and House of Representatives, Senator Botoe Kanneh and Representative Dr. Rosanna Shaack, said the committees are jointly making tremendous efforts to make equity and gender equality a reality to bring both men and women on path.
Both Lawmakers named the passage of the Domestic Violence Act, the Amended Drug Law and the Rape Law as some of the achievements of the Gender Committees and the Legislature at large.
They also mentioned the failure of women to support each other, intimidation from men and lack of self-confidence of women as some of the barriers to women participation in politics and major decision making.
"We need to support each other in every aspect of life, but I must admit women can't support women. During my election, I experienced that. I want to encourage you young girls and women to break the barriers by supporting your friends," Senator Botoe Kanneh added.
They challenged the aspiring female leaders to see the barriers or obstacles as a motivation to achieve their goals in life.
At EU Office, the team met with EU Project Assistant, Lorpu Scott and program officer Simona Camillini and presented a recent data collected through a survey.
The data shows the perspective and barriers holding back young Liberian women from participating in major decision making.
She Leads beneficiaries also called on the EU to provide support to women led initiatives to enable them empower more girls and young women across the country.
Madam Lorpu Scott provided an overview of EU educational activities across the country at various multilateral High Schools and the EU willingness to impact the lives of more Liberians.